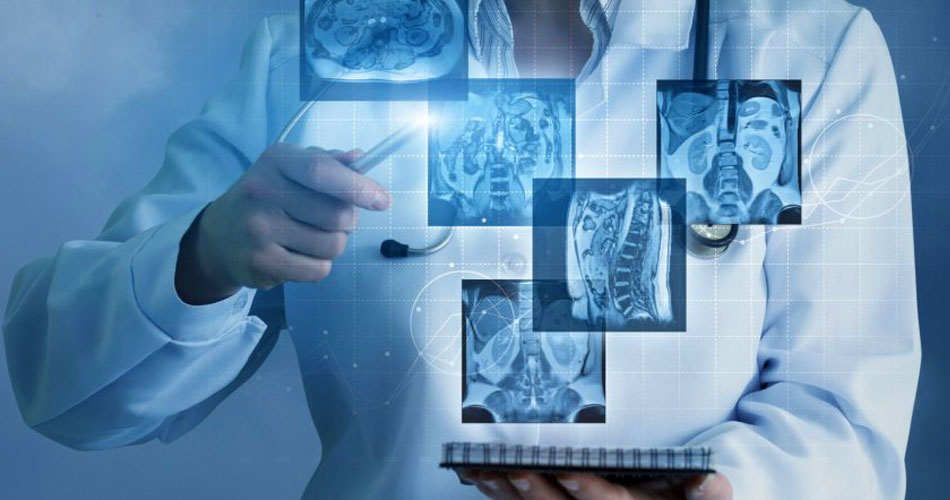 Radiology
X Rays are widely used to make radio graphs of the bones and internal organs of the body. They help doctors detect abnormalities and disease conditions such as broken bones, stones, calcium depositions inside a patient's body.
X-rays are a form of radiant energy, like light or radio waves, but unlike light, x-rays can penetrate the body, which produces pictures of internal structures. The radiologist can view these on photographic films or computer monitor.
In some cases x-rays are used to assist with the placement of tubes or other devices in the body or with other therapeutic procedures.
X-ray examinations provide valuable information about your health and play an important role in helping your doctor make an accurate diagnosis.
Ultrasound is a method of obtaining images from inside the human body through the use of high frequency sound waves. The reflected sound wave echoes are recorded and displayed as a real-time visual image. No radiation is involved in ultrasound imaging.
Obstetric ultrasound refers to the specialized use of sound waves to visualize and determine the condition of a pregnant woman and the fetus.
Ultrasound is a useful way of examining many of the body's internal organs, including the liver, gallbladder, spleen, pancreas, kidneys, urinary bladder etc. This can help to diagnose a variety of conditions and to assess the damage after an illness like hepatitis, pancreatitis, appendicitis, nephrolithiasis etc.
Ultrasound is a very important imaging modality in various types of solid tumors. It aids in making correct diagnosis and delineating the spread of carcinomas.